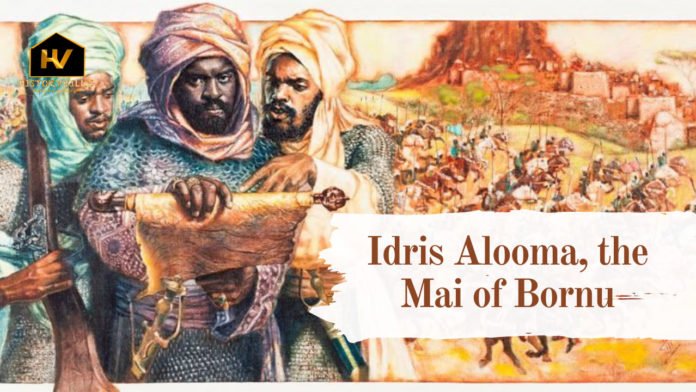 Undoubtedly the greatest monarch of the Central African state of the Kanem-Bornu Dynasty, Idris Alooma (also Idris Alaoma or Idris Alauma) remains the only Bornu King whose name has stood the test of time. Alooma was a contemporary of the Tudor Queen Elizabeth I (1533–1603) of England.
The Mai of Bornu
Idris Alooma (c.1538–1596) was Mai (King) of the Kanem-Bornu Empire (1396–1893), which was located mainly in present-day Chad and Nigeria. An outstanding statesman, Kanem-Bornu reached the zenith of his power under his rule. Alooma is remembered for his military skills, administrative reform, and Islamic piety. His contributions are primarily known via his chronicler, Ahmad bin Fartua.
In the course of his reign, Idris Alooma avoided Ngazargamu, the capital city, choosing to set up his palace in Gambaru, five kilometers north, near the Yo River (Komadugu Yobe). The city walls were stone, leading to a new architecture using red bricks that were typical of his reign. To this day, some of the murals still remain in Gambaru and are over three metres in height. These are the remains of a powerful empire.
Idris Alooma was known by the Kanuri title of Mai for a king.
His major adversaries were the Hausa to the West, the Tuareg and Toubo to the North, and the Bulala to the East. An epic poem extolls his victories in 330 wars and more than 1,000 battles.
Alooma's inventions included the use of fixed military camps (with walls); permanent sieges and "scorched earth" tactics, where soldiers burnt everything in their path; mounted horses and riders; and the use of Berber camels, Kotoko boatmen, and iron-helmet musketeers trained by his Turkish military advisors.
Diplomatic Relations and Reign
His strong diplomacy included relations with Tripoli, Egypt, and the Ottoman Empire, which sent a 200-member embassy party across the desert to the court of Mai Idris Alooma in Ngazargamu.
Alooma also signed what was probably the first recorded treaty or truce in Kanem-Bornu history.
The Mai also implemented a range of legal and institutional reforms focused on its religious values and Islamic law (Sharia). He funded the building of several mosques and made a pilgrimage to Mecca, where he arranged for the establishment of a hostel to be used by the pilgrims of his empire. Unlike other diverse politicians, Idris Alooma's reformist goals have led him to pursue reliable and professional advisors and allies.
The Mai introduced a number of legal and administrative reforms based on his religious beliefs and Islamic law (sharia). He sponsored the construction of numerous mosques and made a pilgrimage to Mecca, where he arranged for the establishment of a hostel to be used by pilgrims from his empire. As with other dynamic politicians, Alooma's reformist goals led him to seek loyal and competent advisers and allies, and he frequently relied on slaves who had been educated in noble homes.
Idris Alooma frequently received advice from a council made up of the heads of the most powerful clans. He called for major political figures to stay in court, and reinforced political alliances through acceptable marriages (Alooma himself had a Kanuri and a Bulala mother).
Economy and Trade
Kanem-Bornu under Alooma was powerful and wealthy. Government revenue came from tribute (or loots if the recalcitrant citizens were to be conquered), taxes and trade.
Alooma took a keen interest in trade and other economic issues, like clearing the roads, creating better boats for Lake Chad, building uniform grain measuring units, and shifting farmers to new lands. He also increased the ease and protection of travel across the empire with the intention of making it so safe that "a lone woman dressed in gold could walk with no one to fear but God".
Dr. Heinrich Barth, the 19th-century German traveller, described Idris Alooma as "an excellent prince, uniting in himself the most opposite qualities: warlike energy, combined with mildness and intelligence; courage, with circumspection and patience; severity with pious feelings."
Ngazargamu
Ngazargamu was the capital of the Kanem-Bornu Empire from around the year 1460 to 1809. Located 150 kilometers west of the Lake Chad in Yobe State of modern Nigeria, the impressive remains of the city can still be seen. The outer wall is 6.6 kilometres long and up to 5 metres high in sections.
The town was founded by Mai Ali Gaji (ruled 1455–1487) after the ultimate defeat of the Dawudid branch of the ruling Sayfawa dynasty. The city was then an important hub for trade and learning and home to about 20,000 inhabitants at its height.
In 1809, after several years of indecisive fighting, Ngazargamu was besieged and destroyed in the Fulani jihad by Ibrahim Zakiyul Kalbi, also known as Mallam Zaki (the founder of Katagum in 1814).
In February 2018, the Yobe State Government of Nigeria announced plans to preserve and protect the ruins of Ngazargamu, which has potential for tourism and research, and to transform it into a cultural and historical centre, as well as to make it a possible World Heritage Site.
What did Idris Alooma accomplish?
The military prowess of Idris Alooma was outstanding. His army was probably the first in Africa to have muskets that he procured from the Turkish Empire. Like his Songhai contemporaries, he was a patron of learning, attracting scholars from many other African countries to live in Bornu. He also improved navigation on the Yobe River as he had initially ordered the construction of larger, flat-bottomed vessels for his fleet.
For land transport, he introduced a much larger number of camels to reduce the reliance on mules, oxen, and donkeys. The great Mai was also an architect, erecting new brick mosques in the cities that replaced the old structures. He also built a hostel for Bornu pilgrims in Mecca.
After the fall of Songhai in 1591, Idris Alooma became the undisputed champion of the Muslims of the city. The Empire then became the Bornu Caliphate and became the leading Islamic power in Black Africa. It was a Caliphate that served all of Africa. The capital city was called Ngazargamu, and it was one of the largest cities on Earth.
In 1658, according to the architectural scholar Susan Denyer, the metropolis housed "about a quarter of a million people." There were 660 avenues. Many of them were broad and unbending, indicative of town planning. The architecture of the high streets, lined on both sides with trees offering shade. Such buildings had to be built on an unprecedented scale.
Heinrich Barth, who studied the remains of these walls during the 19th century, declared that their workmanship was of the same quality as the finest masonry that he had seen in Europe.
Death and Legacy
The name Alooma is a posthumous surname for Idris. It was named after the spot where he was buried, Alo or Alao. At the age of 25/26, he was proclaimed King or Mai. He ruled from 1564 to 1596, according to the Diwan. He died in the Baguirmi campaign, where he was mortally wounded; later he was buried in the Lake Alo, south of the real Maiduguri. That is why he's called Alooma.
There is just too much evidence that pre-colonial Africa teemed with construction and development that even rivalled Europe. Our kings and queens were once like imperial Europeans. They ruled over vast lands and commanded a powerful and central army.
Unfortunately, these kingdoms fell into ruin and in the 1700s and 1800s, the Scramble for Africa and colonisation saw a lot of history destroyed, stolen, or lost.
Nearly all knowledge of these kings (who ruled in lands extending from West Africa to East Africa) is gone. What we know now are only bits and pieces of information.  Nonetheless, we will continue to research them to bring you untold stories in African history.
We always have more stories to tell, so make sure you are subscribed to our YouTube Channel and have pressed the bell button for interesting historical videos. Follow us on all our social media handles and don't hesitate to as well share this article with your friends.
You can also get A Carnage before Dawn, a historical account of Nigeria's first coup d'état. E-book here. Paperback here. And on Amazon Kindle and Amazon Paperback.
You can check out the video version below.
Sources
Mai Idris Alooma | Encyclopedia.com
Idris Alooma: Warrior King of the Bornu Empire | African Heritage