On June 6, 2018, former President Muhammadu Buhari declared that Nigeria's Democracy Day would be celebrated as a national holiday every year on June 12 instead of May 29. Buhari made this announcement just eight days after the country had celebrated Democracy Day on May 29 which had been the norm for nearly 20 years.
May 29 was declared Democracy Day to be celebrated every year when Olusegun Obasanjo was sworn in as president on May 29, 1999, ushering in a new era of the restoration of democratic rule in Nigeria after years of being under military regimes.
Meanwhile, June 12 was a significant day in the country's history as it was the day late Chief Moshood Abiola, who, as the alleged winner of the June 12, 1993, presidential election, was denied his mandate because the election was annulled.
June 12 was only previously celebrated as a public holiday in some South Western states to commemorate the annulled election and called Abiola Day but Buhari, in 2018, announced that it would be a national holiday to reflect on and assess the country's democratic journey and remember Chief Abiola and all the people who died in their struggle for a civilian rule in the country.
Asides from the date change, Buhari, as an incumbent president, also honoured Chief Moshood Abiola by posthumously conferring on him the highest award of the Grand Commander of the Federal Republic (GCFR). Buhari also admitted the error in annulling the June 12, 1993, election, declaring Abiola as a Nigerian President that he was not and renaming the Abuja National Stadium to Moshood Abiola National Stadium.
Chief Abiola's running mate, Baba Gana Kingibe was also conferred with the title of Grand Commander of the Order of the Niger (GCON), alongside late human rights activist and respected lawyer, Gani Fawehinmi.
While giving his speech at the ceremony held at the Presidential Villa in Abuja where the awards were presented, President Buhari apologised to the family of Chief Moshood Abiola and everyone who lost their loved ones in the June 12 struggle for democracy.
This came 25 years after the country held an election commended as the freest and fairest by international and local observers but was annulled and began an era of turmoil, insecurity, and uncertainty, denying the nation the much-awaited democracy.
This article takes a look at the significance of June 12 and why President Muhammadu Buhari chose the date as Democracy Day.
Backstory on "June 12"
The day "June 12" used to be just like any other day. A day that passes by without anyone attaching any form of importance except those of course who have a special link to the day like their birthdays or anniversaries of whatever kind.
It could pass on as either a sad day for some or a memorable day for others. Suddenly, something significant happened in a particular year on June 12 that would resonate with all of posterity and make it an unforgettable date.
That day was June 12, 1993.
On this date, presidential elections were held for the first time in Nigeria, 10 years after the 1983 military coup that overthrew the democratically elected government of President Shehu Shagari. Nigeria had been ushered into military rule, following the January 15, 1966, coup, that led to the emergence of Major-General Johnson Aguiyi-Ironsi as Nigeria's first military Head of State.
The calls for a return to civilian rule were made possible under General Olusegun Obasanjo when he conducted elections and handed power over to Nigeria's first executive President in Shehu Usman Aliyu Shagari.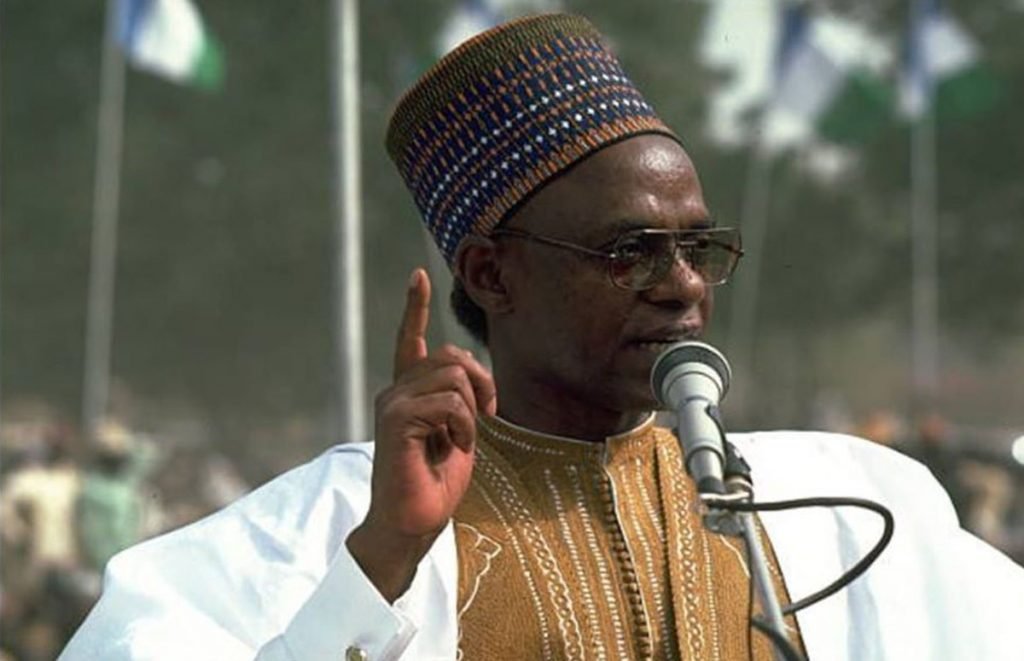 President Shagari was in charge from October 1, 1979, to December 31, 1983, before his government was toppled and the country was once again under the shackles of military rule. The military man who succeeded Shagari was 41-year-old Major-General Muhammadu Buhari.
However, after barely two years as Head of State, Buhari was overthrown by his Chief of Army Staff, Major-General Ibrahim Badamosi Babangida on August 27, 1985. The deposed Head of State would spend the next three years in detention.
Seven years later in 1992, General Babangida launched a political transition programme and state and national assembly elections were conducted. The presidential election, however, was to take place on June 12, 1993.
The two major contenders for the Presidency were Chief Moshood Abiola of the Social Democratic Party (SDP) and Alhaji Bashir Tofa of the National Republican Convention (NRC). An estimated 14 million Nigerians came out to cast their votes, shunning the bad weather. But their efforts and hopes were dashed as the election results were never released.
On June 23, 1993, General Ibrahim Babangida annulled the election, stating that some political activities which took place before the election had put a blemish on the transparent democratic transition the nation had hoped for.
However, General Babangida's annulment left a bad taste in the mouth of the perceived winner of the election, Chief Moshood Abiola and his followers especially in the South Western part of the country. Mass protests demanding the return of Chief Abiola's mandate began, which was at first peaceful, but later turned violent with at least 100 protesters losing their lives. They were allegedly shot at by the security forces who were trying to disperse the crowd of protesters.
The people accused the military government of refusing to hand over power like they had promised to do and they were not far from the truth as General Babangida on the assumption of office after overthrowing the military government of General Muhammadu Buhari in 1985, had made a broadcast assuring citizens of his plan to transfer power to civilians.
His words were not being followed by actions as seen in his annulment of the election that would have introduced a new era of democratic rule in the country. Instead, the unity of the country was in jeopardy. In the midst of this chaos, General Babangida stepped aside as the country's military ruler and an Interim National Government headed by Chief Ernest Shonekan was formed. But the interim government would only last for 82 days as it was soon overthrown by the Secretary of Defence, General Sani Abacha on November 17, 1993. As a result, military rule continued with Abacha.
In June 1994, Chief Abiola declared himself the democratically elected President of Nigeria and was promptly arrested by General Abacha. Abiola would die in detention under mysterious circumstances on July 7, 1998, just one month after the death of General Sani Abacha.
Abacha's successor, General Abdulsalami Abubakar then conducted fresh elections in February 1999 and handed over to the winner, former Head of State, Olusegun Obasanjo on May 29, 1999.
To commemorate a new era of civilian rule, the day, May 29, was set aside to be celebrated every year as a national holiday and was known as Democracy Day. However, among the Yoruba people of the South West, the agitation for June 12 continued.
The Significance of June 12
The idea of a "government of the people, by the people and for the people" which is the true definition of democracy, actually came alive in an unprecedented manner on June 12, 1993. Nigerians had been weighed down by the autocratic rule of the military and were in need of a much-awaited democratic rule where they would have a hand in choosing their own leader instead of having military rulers being foisted on them who had snatched power through, most times, a bloody coup.
The presidential election of June 12, 1993, was one that was welcomed wholeheartedly and was highly anticipated with expectations for a new beginning for the nation. Ignoring the fact that Chief Moshood Abiola was a Muslim and his running mate, Babagana Kingibe was also a Muslim, the citizens were not swayed and there were no religious tensions or tribal issues. Religion, ethnicity or geography seemed not to matter in the grand scheme of things.
A majority of the populace was only interested in returning to civilian rule and being free from military tyranny and Chief Abiola was their favourite candidate which was why they filed out in their numbers on June 12, 1993, to vote.
However, their hope for a new beginning did not materialise when General Babangida denied Chief Abiola victory which was witnessed by all and sundry by annulling the election. Thus, the annulled election of June 12, 1993, became a symbol of political suicide as Chief Abiola's purported victory at the polls would have marked freedom for Nigerians from military rule. Democracy, justice, and the people's will died a painful death on that day.
May 29 or June 12?
Despite the significance of May 29 as the birthdate of the Fourth Republic, many calls from various quarters rent the air, demanding the recognition of June 12 as a symbolic day in the nation's history. Former Presidents Olusegun Obasanjo, Umaru Musa Yar'Adua and Goodluck Jonathan turned a deaf ear to such calls until President Muhammadu Buhari in 2018.
Although President Goodluck Jonathan had tried to posthumously honour Chief Moshood Abiola when the country marked Democracy Day on May 29, 2012, by renaming the University of Lagos to Moshood Abiola University in a broadcast, the move was met with stiff opposition by students and alumni of the University.
Nigerians had criticised the name change as not being a national honour and not enough because Chief Abiola's fight was a national one and not a Yoruba struggle. Even a court ruled that the change was illegal and President Jonathan had to succumb to the pressure.
Buhari's Motive
During the Democracy Day celebration on June 12, 2021, President Buhari stated that changing Nigeria's Democracy Day from May 29 to June 12 was done to honour the sacrifices of those who fought for the country's democracy and to show his administration's commitment to creating an enabling environment where democracy was the norm.
Hence, the replacement of May 29 with June 12, is to be celebrated as a day to remember and to recognise the labour and sacrifices of the country's democratic heroes. Also, May 29, 1999, could not have happened without the continued struggle of June 12.
In line with the implementation, the day May 29, the next year, 2019, passed without any fanfare and Democracy Day was celebrated on June 12.
We always have more stories to tell. So, make sure you are subscribed to our YouTube Channel and have pressed the bell button to receive notifications for interesting historical videos. Also, don't hesitate to follow us on all our social media handles and to as well share this article with your friends.
Feel free to join our YouTube membership to enjoy awesome perks. More details here…
Sources
Agbalajobi, D. (2019, June 11). June 12 is Now Democracy Day in Nigeria. Why it Matters. The Conversation. Retrieved from https://theconversation.com/amp/june-12-is-now-democracy-day-innigeria-why-it-matters-118572
Angbulu, S. (2021, June 12). Why I Made June 12 Democracy Day – Buhari. Punch. Retrieved from https://punchng.com/why-i-made-june-12-democracy-day-buhari/?amp
Binuomoyo, O. (December 2018). The Paradox of 1914 and the June 12: Nigeria's Unending Nightmares. International Journal of Research and Innovation in Social Science. Vol. II (XII). pp. 289-307
Ngwuta, O. (2020). Annulment of June 12, 1993, Presidential Election and the Elusive Question for Democracy in Nigeria. South East Political Review (SEPSR). Vol. 5(1). pp. 27-40
Onatola, A. (2012, June 21). Jonathan and the UNILAG Name Change. Vanguard Newspaper. Retrieved from https://www.vanguardngr.com/2013/02/unilag-name-change-jonathan-makes-uturn/amp/