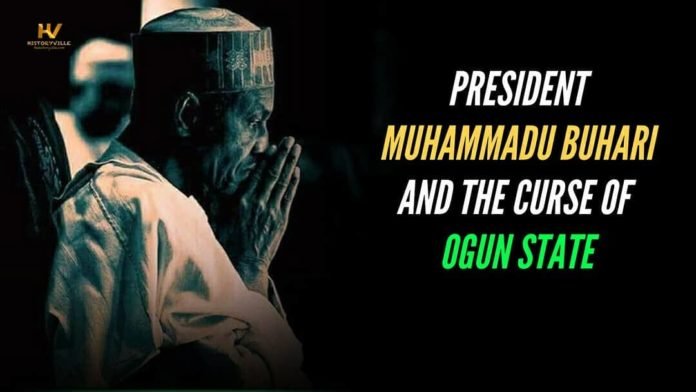 On May 29, 2015, President Muhammadu Buhari, GCFR, was sworn in as the 15th Head of State and the 5th elected civilian President in the history of Nigeria along with his deputy, Professor Yemi Osinbajo, GCON. It was a landmark victory for their party, the All Progressives Congress (APC), as it was the first time in the nation's electoral history that an opposition party (APC) would topple a ruling party (the People's Democratic Party [PDP]) through the ballots.
The first time an opposition party was toppled, it was through the bullets (and not ballots) of some dissident soldiers in the Nigerian Army on the morning of Saturday, January 15, 1966. The then ruling party, the Northern People's Congress (NPC), lost many of her political leaders during that military putsch.
Nevertheless, the main focus of this article is the "unwarranted" history against President Muhammadu Buhari and every Nigerian Head-of-State with an indigene of Ogun State as his deputy.
Muhammadu Buhari – Yemi Osinbajo
President Muhammadu Buhari hails from Daura, Katsina State, in the North-Western geo-political zone of the country while his deputy, Vice President Yemi Osinbajo hails from Ikenne, Ogun State, in the South-Western geo-political zone of the country.
Interestingly, every occupant, as of today, of the first (President/Head-of-State) and second (Vice President/Deputy Head-of-State) high offices in the nation that hails from the South-West is from Ogun State.
Johnson Aguiyi-Ironsi – Babafemi Ogundipe
The first South-Westerner to attain that high office was Brigadier-General Babafemi Ogundipe (1924-1971). When Major-General Johnson Thomas Umunakwe Aguiyi-Ironsi (1924-1966) assumed power as the first military Head of State in January 1966, Ogundipe was chosen to be his deputy by the Supreme Military Council.
Ogundipe who hailed from Ago-Iwoye, Ogun State, joined the Royal West African Frontier Force in 1941 and served in Burma between 1942 and 1945 during World War II. He re-enlisted after the war and rose to the rank of Brigadier in May 1964.
He was only 194 days in office as the de facto Vice President of Nigeria, when his boss, Aguiyi-Ironsi was killed in the counter-coup of July 29, 1966, by northern soldiers at Lalupon, about ten kilometres from Ibadan in present-day, Oyo State.
Murtala Muhammed – Olusegun Obasanjo
The second was General Olusegun Obasanjo (rtd.), born around 1938, two-time leader of Nigeria (1976-1979; 1999-2007), who became the country's first civilian president since 1983 when he took office for the second time as an elected President in 1999.
Obasanjo hails from Abeokuta, Ogun State. Unable to afford a university education, he joined the Nigerian military in 1958 and received training in the United Kingdom and India. In 1967, Nigeria was embroiled in a civil war as the Igbo, one of Nigeria's three main ethnic groups along with the Yoruba and the Hausa-Fulani, attempted to secede and form the Republic of Biafra. Obasanjo was lauded for leading an attack on Biafran forces that principally ended the war.
After the war, and a successful bloodless coup, which toppled then Head of State, General Yakubu Gowon (rtd.) (b. 1934), Obasanjo served as deputy to General Murtala Ramat Muhammed (1938-1976) as Nigeria's military leader. Obasanjo was only 200 days in office as deputy Head-of-State when Murtala Muhammed was assassinated in an abortive coup on Friday, February 13, 1976.
Sani Abacha – Oladipo Diya
The third is Lieutenant-General Oladipo Diya (rtd.), born in 1944 in Odogbolu, Ogun State. He was appointed Military Governor of Ogun State from January 1984 to August 1985.
Diya was Commandant, National War College (1991-1993) and then was appointed as Chief of Defence Staff. He was appointed Chief of General Staff in 1993 and Vice Chairman of the Provisional Ruling Council in 1994.
As the Chief of General Staff, he was the de facto Vice President of Nigeria to General Sani Abacha (1943-1998) until 1997 when he was arrested for treason. Nevertheless, his office was still vacant when his boss, Abacha died of a heart attack in June 1998.
The fourth and current occupier of this position is Professor Yemi Osinbajo (b. 1957), a deputy to President Muhammadu Buhari, also hails from Ogun State.
Interesting Facts
Among all, only Obasanjo rose to the first office from the second office. Ogundipe "ran away" to London after the death of Aguiyi-Ironsi while Diya who was arrested for treason was in detention at the time of Abacha's death and therefore could not have succeeded him as Head of State.
Another South-Westerner who rose to the first office in the land is Chief Ernest Adegunle Oladeinde Shonekan (b. 1936). Like Obasanjo, he hails from Abeokuta, Ogun State.
He is a British-trained Nigerian lawyer, industrialist, politician, and traditional chieftain. He was appointed as interim president of Nigeria by General Ibrahim Badamasi Babangida on 26 August 1993. His administration only lasted for three months. Shonekan was not a Vice President but was selected by Babangida to lead the nation as an interim leader.
Summary
In conclusion, it is frightening to note that every Nigerian leader with an Ogun State indigene as his deputy, whether removed or sustained, died in office. Now, we have an Ogun State indigene as the number two man to President Muhammadu Buhari.
Although these events happened during the military era, it is yet to happen in the civilian era. I pray it does not happen in this civilian era.
We always have more stories to tell, so make sure you are subscribed to our YouTube Channel and have pressed the bell button for interesting historical videos. You can also follow us on all our social media handles and don't hesitate to as well share this article with your friends.
You can also get A Carnage Before Dawn, a historical account of Nigeria's first coup d'état. E-book here. Paperback here. And on Amazon Kindle and Amazon Paperback.