Groundnut pyramids were pyramid-like structures made from groundnut sacks. The pyramids were built in northern Nigeria in cities such as Kano, where groundnut production was a key part of the economy in Nigeria's First Republic. They were viewed as both a tourist attraction and a symbol of wealth.
In the 1960s and 70s, as production in Nigeria shifted from agriculture to oil, the groundnut pyramids gradually disappeared.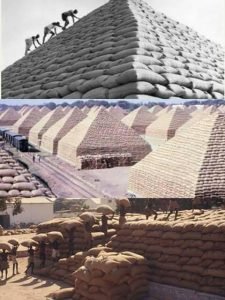 Alhassan Dantata
Groundnut pyramids were the invention of Alhassan Dantata (1877-1955), a prominent nut trader. Dantata came to Kano in 1919 and within five years was one of the most successful businessmen, supplying the Royal Niger Company (RNC) with most of their groundnuts. Dantata's company kept their groundnuts at a facility in Kofar Nassarawa, and they stacked the bags in the shape of a pyramid before they were shipped.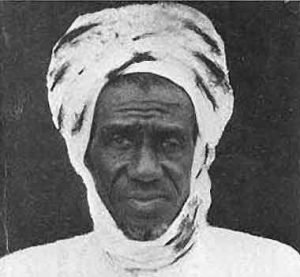 Many farmers in the villages were harvesting for him. Whenever it was the season, people brought groundnut from different parts of Kano to the locations of the pyramids on camels and donkeys; only a few people had vehicles to bring their produce there.
His own was to get labourers to put them together in pyramids. When this was done, the agents would later transport them to Lagos for shipment abroad. Most of his customers were outside the state and the country. The groundnuts produced in Kano at that time were beyond what the state could consume; they were even beyond what the country could consume.
One groundnut pyramid could be made from as much as 15,000 full groundnut bags.
Later in 1918, Alhassan was approached by the Niger Company to help purchase groundnuts for them. He was already familiar with the manner by which people made fortunes by buying cocoa for Europeans in the Gold Coast, today's Ghana. He responded and participated in the enterprise with enthusiasm, he had several advantages over other Kano businessmen: he could speak some English because of his contact with the people on the coast, thus he could negotiate more directly with the European traders for better prices.
He also had accumulated a large capital and unlike other established Kano merchants, had only a small family to maintain, as he was still a relatively young man.
Dantata had excellent financial management, was frugal and not ostentatious. As soon as he entered the groundnut purchasing business, he came to dominate the field. In fact, by 1922, he had become the wealthiest businessman in Kano.
When the British Bank of West Africa (now First Bank of Nigeria) was opened in Kano in 1929, Dantata became the first Kano businessman to utilize a bank account when he deposited twenty camel loads of silver coins. Shortly before his death, he pointed to sixty groundnut pyramids in Kano and said, "These are all mine."
Groundnut Pyramids
One groundnut pyramid could be made from as many as 15,000 full groundnut bags.
In an article published by the Daily Trust Newspapers on Sunday, September 13, 2015, a former groundnut pyramid site in Kano was being used as a football field.
Groundnut pyramids were built all across Northern Nigeria, in cities like Kofar Mazugal, Brigade, Bebeji, Malam Madori and Dawakin Kudu. The pyramids became synonymous with Nigeria's agricultural wealth; a postage stamp even featured a groundnut pyramid.
However, as groundnut production declined in the 1970s and 1980s the groundnut pyramids disappeared and were replaced with buildings.
Future of the Groundnut Pyramids
Former President Goodluck Jonathan, on his visit to Kano during the 2015 presidential campaign, promised that his administration would help the people to revive the groundnut pyramids, as well as put in place, the necessary infrastructure to boost its processing and packaging. He said there was a need to empower the people of Kano and boost trade and industry in the city.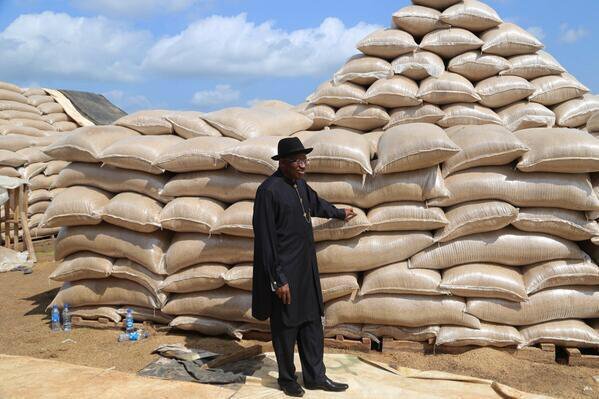 In 2014, Jonathan also assured that his administration, under the groundnut value chain programme, is expected to produce an additional 120,000 metric tonnes of groundnut valued at ₦24 billion and supplied to small, medium, and large scale processors.
According to him, the project was planned to be implemented in 15 states – Jigawa, Kaduna, Kano, Katsina, Bauchi, Benue, Borno, Gombe, Kebbi, Kwara, Nasarawa, Niger, Taraba, Yobe and Zamfara. But nothing was heard of the project till the expiration of his administration in 2015.
Now, this raises the question, "Will the groundnut pyramids ever return?"
We always have more stories to tell. So, make sure you are subscribed to our YouTube Channel and have pressed the bell button to receive notifications for interesting historical videos. Also, don't hesitate to follow us on all our social media handles and to as well share this article with your friends.
Feel free to join our YouTube membership to enjoy awesome perks. More details here…
Sources
Abubakar, M. (2015, March 22). Jonathan In Kano, Promises Return Of Groundnut Pyramids. TheGuardian. Retrieved from https://guardian.ng/news/jonathan-in-kano-promises-return-of-groundnut-pyramids/
Adebayo, I. (2015, September 13). 60 Years After, Kano Groundnut Pyramids Site Turns To Football Field. Daily Trust. Retrieved from https://dailytrust.com/60-years-after-kano-groundnut-pyramids-site-turns-to-football-field
Anwar, A. (2016, September 25). Muhammad: We do more than groundnut pyramids of those days. TheGuardian. Retrieved from https://guardian.ng/features/muhammad-we-do-more-than-groundnut-pyramids-of-those-days/