Today marks 21 years since the demise of General Sani Abacha and the history of Nigeria is incomplete without a succinct recourse to the man Sani Abacha. Nigeria's 7th military Head-of-State, Sani Abacha died on June 8, 1998, while at the Presidential Villa, Abuja. He was flown to Kano and buried the same day, according to Islamic rites, without an autopsy. This fueled speculation that he might have been executed extrajudicially by way of being poisoned by political rivals via prostitutes.
On the contrary, the government cited his cause of death as a sudden heart attack. It is reported that he was in the company of two Indian prostitutes "imported" from Dubai. It is thought that these prostitutes laced his drink with a poisonous substance, making Abacha feel unwell around 4:30 a.m. He retired to his bed and was dead by 6:15 a.m.
Sani Abacha Facts
1. General Sani Abacha was born on Monday, September 20, 1943, in Kano and also died and was buried on Monday, June 8, 1998. A Kanuri originally from Borno State, he was brought up in Kano State, where he made his home.
2. He married a Shuwa Arab, Maryam, also from Borno state, in 1965, and together they had six boys and three girls. The first child, Ibrahim, died in a plane crash in 1996.
3. The last of their children was born in Aso Rock in 1994 when Abacha was 50 and his wife, 47. The boy was named Mustapha, supposedly after Abacha's chief security officer, Hamza al Mustapha.
4. Sani Abacha was the first and only military Head-of-State who never skipped a rank to become a full-star General.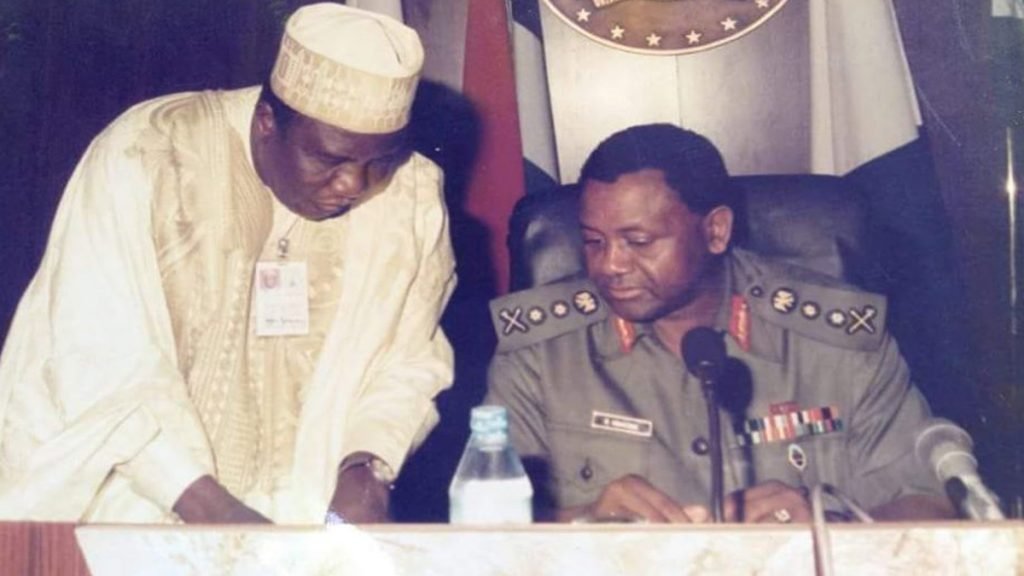 5. Abacha is by some records the most successful coup plotter in Nigerian history. The late general participated in every single successful coup carried out in the country and was instrumental in the coups which brought and removed Major-General Muhammadu Buhari from power in 1983 and 1985 respectively.
6. Abacha announced the coup that brought an end to the government of President Shehu Shagari on December 31, 1983, which eventually brought Major-General Muhammadu Buhari to power. Also, after Buhari was overthrown in a palace on August 27, 1985, it was Abacha who announced the chief of army staff, Major-General Ibrahim Babangida, as the new military president and commander-in-chief of the armed forces in an evening broadcast (the coup speech was read by Brigadier Joshua Nimyel Dogonyaro).
7.  Abacha was known as a man of "few words and deadly actions"; he demonstrated this as Head of State with one of the most brutal regimes Nigeria has ever had. There was a massive crackdown on the media, civil rights groups, and pro-democracy campaigns.
8. Officially, Sani Abacha did not overthrow the interim national government in 1993. The head of government, Chief Ernest Shonekan, resigned and Abacha as the secretary of defence and the most senior member of government took over. Unofficially, it was a bloodless coup.
In 2004, Abacha was listed as the fourth most corrupt leader in history.
9. Two of the most important recommendations of the 1995 constitutional conference he set up are 13% derivation for oil-producing areas and six geo-political zones.
10. Abacha never held a non-military appointment in his career until he became minister of defence in 1990 (later re-designated secretary of defence in 1993). He was a lieutenant general then.
11. Abacha's supporters describe him as a good economic manager and that he stabilised the exchange rate at ₦22/$1 but the unofficial rate was ₦80/$1. This created colossal rent-seeking, with many "chosen" associates buying at the official rate and reselling at four times the rate in the black market.
12. Abacha increased fuel prices just once in his four-and-a-half years in office and set up the Petroleum (Special) Trust Fund, which was widely acknowledged to have performed well in infrastructural development and intervention programmes in education, health, and water.
13. His wife, Maryam, set up what is now known as the National Hospital, Abuja. It was originally named National Hospital for Women and Children before it was upgraded into what is intended to be Nigeria's number one public hospital.
14. It was under Abacha that Nigeria became a perpetual importer of petroleum products, as all the refineries packed up. However, more than 20 years after his death, Nigeria is still heavily dependent on fuel imports.
15. An unforgettable phenomenon under Abacha was the importation of "foul fuel" which had an offensive odour and damaged car engines.
16. Sani Abacha was instrumental in the restoration of peace and democracy in Sierra Leone and Liberia after years of civil wars.
17. In 1995, after the execution of Ken Saro-Wiwa, Time magazine named Abacha "Thug of the Year." In 2004, Abacha was listed as the fifth most corrupt leader in modern history.
18. Abacha rarely appeared in public, refused to grant interviews or allow the publication of any personal information about him, and developed a habit of working only at night.
19. General Sani Abacha spent 54 months as Nigeria's Head of State and died on June 8, 1998, at the age of 54.
20. Abacha's death still remains shrouded in mystery: the most popular version is that he died in the midst of Indian prostitutes flown in from Dubai but the official version is that he died of a heart attack. A more likely story is that he was "eliminated" to end the political crisis in Nigeria. Abacha was survived by his wife, eight children, and 15 grandchildren.
21. Astonishingly, the Nigerian government is still recovering much of the loot Abacha reportedly stashed in foreign accounts around the world.
Are there other facts about General Sani Abacha that you know of? Kindly share in the comment box below.
We always have more stories to tell. So, make sure you are subscribed to our YouTube Channel and have pressed the bell button to receive notifications for interesting historical videos. Also, don't hesitate to follow us on all our social media handles and share this article with your friends as well.
Feel free to join our YouTube membership to enjoy awesome perks. More details here…
You can also get Ayomide Akinbode's latest historical novels on Amazon, Rovingheights, and Okadabooks.