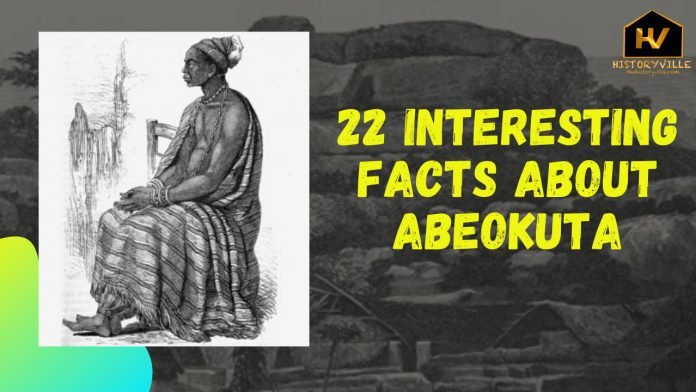 Abeokuta was a sovereign nation for 20 years and 11 months before the British amalgamated her with the rest of Nigeria in 1914. She had her own laws, Police Force, Civil Service and was well organized. The Alake was the head of the defunct government known as the Egba United Government (February 1, 1893 – January 1, 1914).
The repressive system of government by leaders of the EUG did not go down well with the Egba people and this led to the Adubi War (1918). I have compiled some facts about this ancient and paramount city that seats as the capital of Ogun State and also the pride of Egbaland.
Foundation of Abeokuta
1. Abeokuta was founded in 1830, with Sodeke as her leader. The initial name of the city was "Oko Adagba" meaning "Adagba's farmstead"; Adagba was an Itoko farmer. Sodeke who led the Egba people the land met him there.
2. Abeokuta means 'under the rock', signifying the protection which the Olumo Rock offered the Egbas during attacks from intruders.
3. Since the discovery of Olumo Rock, no one has fallen from it. Not even once.
A City of many Firsts
4. The first church in Nigeria, St. Peter's Anglican Church, is in Abeokuta.
5. The first Baptist Church in West Africa and the first local government in Nigeria (Abeokuta South) are in Abeokuta.
6. The first University in Nigeria should have been located in Abeokuta but due to the grudge between the Alake and Reverend Israel Oludotun Ransome-Kuti, it was established at Ibadan as the University of Ibadan in 1948.
7. The first secondary school in Nigeria was sited in Abeokuta before it was relocated to Lagos as CMS Grammar School due to unknown reasons.
8. The first hospital in Nigeria, Sacred Heart Hospital, is in Abeokuta. It is still functioning.
9. The first bridge in Nigeria (Sokori Bridge in 1903) built by a Nigerian (Mr. John Adenekan) without European supervision is in Abeokuta.
10. The first Newspaper in Nigeria (Iwe Irohin) was founded in Egbaland in 1859.
11. The first president of the Nigeria Union of Teachers and the first woman to drive a car in Nigeria were Egba indigenes. They both married each other. They were also the first male and female admitted to the Abeokuta Grammar School.
12. The first indigenous Chief Justice of Nigeria (Justice Adetokunbo Ademola) was from Abeokuta. He was the son of the longest-reigning monarch (Alake) in Egbaland.
The Alake
13. Okukenu Sagbua I, was the first Alake of Egbaland. He was enthroned on August 8, 1854. His descendant, Okukenu Sagbua IV is the current Alake of Egbaland.
14. Alake Gbadebo I, was the first monarch in Nigeria to visit England on a state visit. He spent 20 days at sea-May 5-25, 1904.
15. The first time a white man came to Abeokuta on January 4, 1843, everybody (both young and old) left their homes and market places to catch a glimpse of Henry Townsend, the white man.
16. During the American Civil War (1861-1865) which interrupted the United States' cotton trade to Europe, the Egba people exported cotton to England.
17. One of the most influential women in the history of Egbaland and the first Iyalode of Egbaland was Madam Tinubu. Tinubu square in Lagos and Ita Iyalode in Abeokuta are named after her. She died in 1887.
18. In 1893, the Egba United Government was recognized as an independent nation by Britain. She had her own laws. Many developments were made until 1914 when she was amalgamated to form Nigeria. The Sokori Bridge was constructed in 1903 and the Abeokuta Grammar School was founded on July 16, 1908.
Notable People from Abeokuta
19. Abeokuta has produced many outstanding persons among the Yoruba people:
Academics
Accountancy
Akintola Williams
Folorunso Oke
Bola Kuforiji-Olubi
Law
Justice Adetokunbo Ademola – first indigenous Chief Justice of Nigeria
Justice Olumuyiwa Jibowu
S. O. Lambo
F.R.A. Williams
Prince Bola Ajibola
Medicine
Professor Thomas Lambo
Koye Ransome-Kuti
Military
Oluwole Rotimi
Enitan Ransome-Kuti
Civil Service
Literature
Ajisafe
J.F Odunjo
Amos Tutuola
Music
Fela Ransome-Kuti
Femi Ransome-Kuti
Fela Sowande
Ebenezer Obey
Sina Peters
Adeola Akinsanya
Prince Adekunle
Ayinla Omowura
Journalism
Olusegun Osoba
Reuben Abati
Women Rights and Entrepreneurship
Iyalode Tinubu
Eniola Soyinka
Elizabeth Adekogbe
Iyalode Bisi Tejuoso
Politics
Olusegun Obasanjo
Moses Majekodunmi
Dimeji Bankole
Ayotunde Rosiji
Olusegun Osoba
Ibikunle Amosun…and others too countless to mention.
Additional Facts
20. In 1925, Josiah Jesse Ransome-Kuti (1855-1930), Fela's grandfather, became the first Nigerian to release a record album after he recorded several Yoruba language hymns in gramophone through Zonophone Records.
21. The most enlightened clan among the Yoruba tribe are the Egbas. Her chiefs had been interacting with the Queen of England as far back as 1868 which continued till a century later. English and Egba monarchs did exchange gifts.
22. The only South Westerners ever to rule Nigeria are from Abeokuta (Olusegun Obasanjo and Ernest Shonekan).
Are there any other interesting facts about Abeokuta that are not captured in this article, don't hesitate to share your comments below.
If you liked this article, then please subscribe to our YouTube Channel for interesting historical videos and follow us on all our social media handles. Don't hesitate to as well share this article with your friends.
You can also get A Carnage before Dawn, a historical account of Nigeria's first coup d'état. E-book here. Paperback here.
You can also know more about Abeokuta in the video below: