In the run-up to the 2019 Nigerian presidential elections, some major newspapers in the country quoted some allegedly-said words of the former governor of Lagos State and a stalwart of the ruling All Progressives Congress (APC) party, Asiwaju Bola Ahmed Tinubu, where he labelled incumbent President Muhammadu Buhari as an "ethnic bigot and a religious fanatic" in 2003.
So, we decided to do a quick fact-check on Tinubu's alleged statement on whether the former governor did, indeed, say these words. Let's find out.
The Punch
On January 21, 2019, The PUNCH newspapers reported that former President Olusegun Obasanjo supported Tinubu for calling Buhari a tribalist, and religious fanatic in 2007 (actually it was in 2003). The paper reported that Tinubu made the claim while supporting former Vice President Atiku Abubakar of the defunct Action Congress party during the 2007 presidential campaign.
The paper said "Tinubu described Buhari of the All Nigeria People's Party (ANPP) as an ethnic bigot" and went further to say Obasanjo was in support of Tinubu's scathing attack on the retired general. The PUNCH quoted Obasanjo thus:
"Bola Tinubu's statement about Muhammadu Buhari in 2003 (2007) is fairly prophetic, Muhammadu Buhari is an agent of destabilisation, ethnic bigot and religious fanatic who, if given the chance, would ensure the disintegration of the country. His ethnocentrism would jeopardise Nigeria's national unity."
Independent
Another newspaper, the Independent, corroborating PUNCH's claim, however, attributed their source to a 2003 Wikileaks transcript of a conversation between Tinubu and an unnamed US consul-general.
The paper wrote that the mysterious consul-general was an impersonator. It went further to quote Tinubu as saying Buhari would be far worse than Obasanjo if the former became the president in 2003.
"Buhari and his ilk are agents of destabilization who would be far worse than Obasanjo. The conversation was recorded by the US Consul General and wired back to Washington DC for analysis. Of which, Wikileaks got a hold of the recorded transcripts and published the conversation."
Quoting Section 6 (c) of the document, the Independent wrote that Tinubu didn't like Obasanjo as the latter was instrumental to the demise of democracy in the country when Obasanjo ruled as Nigeria's military Head of State from 1976 to 1979 and, to add salt to injury, a beneficiary of democracy his constituent (the Nigerian Army) truncated.
The paper continued that Tinubu and his party, the Alliance for Democracy (AD), supported Obasanjo, not because they had no presidential candidate but because Obasanjo was a Yoruba president. Most importantly, the AD felt Obasanjo was the only one who had the power and influence to deny Buhari a seat in Aso Rock in 2003.
According to the Independent, the document went further to describe Buhari as an ethnocentric individual who would endanger Nigeria's national unity.
When we finally read through the Wikileaks document dated Friday, February 21, 2003, it's convincing that the reports of the two newspapers may be true.
The document itself went further to say Tinubu and many of his fellow governors were already implementing a strategy to re-elect Obasanjo at the time, so as to prevent Sharia from spreading across the country.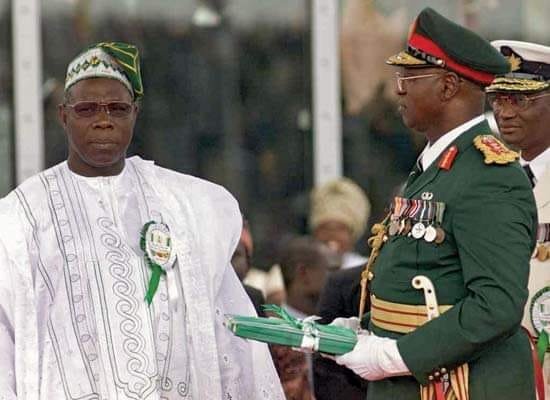 "Tinubu predicted that the President, Obasanjo, will follow his own course if re-elected since he will not need as many friends the second time around," the document said.
Did Tinubu make the statement?
So, you would ask, if Tinubu had the foresight of all these, why did he then throw his support for Buhari as president, not once but twice, and went further to campaign for him against Atiku whom Tinubu praised and described as "a detribalised politician who knows where he is going and how to build bridges to get there."
As for the spreading of Sharia across the country, Tinubu's prediction may already be coming to realisation in reference to comments made in December 2019 by the former Chief Justice of Nigeria, Ibrahim Tanko Muhammad, on amending the 1999 Nigerian military constitution to accommodate the Sharia law.
Although there is no clear evidence Tinubu said this in public or at any rally, his history with Obasanjo, Buhari and Atiku would throw weight behind these statements of his.
So, could it be true? Yes! It could be truer than it could be false.
We always have more stories to tell. So, make sure you are subscribed to our YouTube Channel and have pressed the bell button to receive notifications for interesting historical videos. Also, don't hesitate to follow us on all our social media handles and to as well share this article with your friends.
Feel free to join our YouTube membership to enjoy awesome perks. More details here…
Sources
Agency Report. (2018, December 9). Buhari Is An Ethnic Bigot, Religious Fanatic – Bola Tinubu. Independent. Retrieved from https://independent.ng/buhari-is-an-ethnic-bigot-religious-fanatic-bola-tinubu/
Akinkuotu, E. (2019, January 21). Tinubu was right for calling Buhari a tribalist, religious fanatic, says Obasanjo. The Punch. Retrieved from https://punchng.com/tinubu-was-right-for-calling-buhari-a-tribalist-religious-fanatic-says-obasanjo/
Olufemi, A. (2019, December 13). Nigeria's chief justice wants more Shari'a in constitution. Premium Times. Retrieved from https://www.premiumtimesng.com/news/top-news/368074-nigerias-chief-justice-wants-more-sharia-in-constitution.html