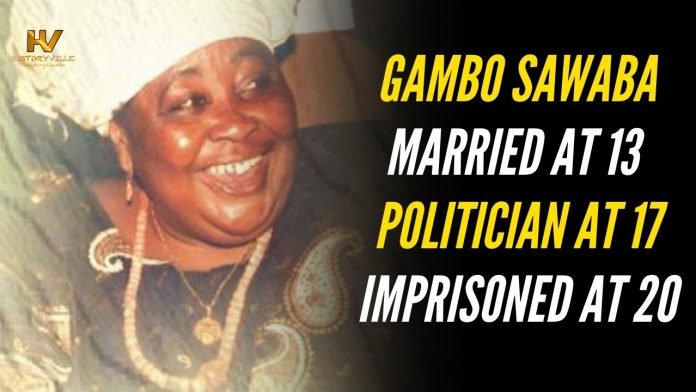 Gambo Sawaba was 13 years old when she was married off to a retired soldier. As it was endemic in the northern part of Nigeria, where women are least supported and their education ignored, Sawaba struggled through all these challenges to emerge as a healthy, creative, and independent political activist who helped to educate many people.
Sawaba also emerged from colonial persecution and deformity, renewed and very human, and, like most of her contemporaries, sowed seeds for the continued liberation of African women from the African culture and institutions of the African nation-states.
Her political actions during the period gained her persecution from both the colonial authorities and the native government, and several times resulted in her being imprisoned.
Her biography contained notes on many incidents of beating and abuse. She was one of the early leaders of the Northern Elements Progressive Union (NEPU) in Zaria, a movement that aligned with the working class and the poor that became their key support base. Gambo Sawaba is also remembered for some of her humanitarian works, as well as her views on women's empowerment in the field of politics.
Early Life and Education
Hajaratu Gambo Sawaba was born to the family of Fatima and Theophilus Wilcox Amarteifo, who later converted to Islam and took the name of Isa. Her father was of Ghanaian descent, while her mother came from Nupeland.
Sawaba was born on February 15, 1933, and was originally named Hajaratu, but since she was born to a pair of twins, she came to be known as Gambo. Her last name was allegedly given to her by Mallam Gambo Sawaba, a prominent NEPU member in Zaria, who was twice elected to the Zaria City Council.
As a young girl, Gambo Sawaba struggled and developed a stubborn streak while showing affection for her bullied peers and mentally challenged individuals. She was educated at the Native Authority Primary School in Tudun Wada. However, a few years later, beginning in 1943, she lost her father, and then three years later, in 1946, her mother died which subsequently ended her education.
Personal Life and Marriage
Gambo Sabawa was married four times in her lifetime. The first time she had been married to Abubakar Garba Bello was when she was 13 years old. Bello was a veteran of the Second World War, but he disappeared around the time of his first pregnancy and childbirth.
Both Abubakar and Sawaba had a girl-child, Bilikisu. Her next marriage was with Hamidu Gusau, and her marriage was often tempestuous, as the couple often engaged in battling each other. She went through two more marriages later.
Political Career
Gambo Sawaba entered politics when she was just 17 years old. At that time, Northern Nigeria was controlled by the Northern People's Congress (NPC), backed by the Emirs and the British Colonial Authority, but Sawaba joined the opposition party. She became the women's leader in Kaduna, the Sabon Gari district, and her party's mission was to take power away from the rich and bring the poor together.
In 1950, she left Zaria for Abeokuta to meet with Funmilayo Ransome-Kuti after reading about her campaign in Abeokuta in her struggle for women's rights in tax matters and the brief abdication and exile of Oba Samuel Ladapo Ademola II as a result. She's stayed in Abeokuta for three months.
On her return to Zaria, Sawaba made a name for herself when she ascended the podium at a political lecture and spoke out in a room full of men. There, she was given the name Sawabiya, meaning "redeemer", but later shortened to the masculine, Sawaba.
Gambo Sawaba has lobbied against under-aged marriages and forced labour. She also promoted western education in the North and met with women who were not permitted to engage in political activities because of their gender.
As a result, Gambo was arrested along with two hundred other women for not receiving a permit before the assembly. They were each sentenced to one-month imprisonment. In the meantime, Gambo was said to have been sent to prison 16 times in her lifetime and she was often dehumanized by the police.
Throughout the First Republic (1963–1966), she continued her political activities, often enduring humiliating retribution from the violent opposition thugs. She advocated the right of women to vote and was elected chief of the women's wing of the NEPU.
"If I don't know book, I know rights… I have not been a member of any House of Assembly. I have not held any office except that I was a member of the House of Prison. – Hajaratu Gambo Sawaba (1933–2001)…
During the Second Republic (1979–1983), Gambo Sawaba was a member of the Great Nigeria Peoples' Party (GNPP) and served as its Deputy National Chairman. She worked as a contractor in the 1970s, before becoming involved in small-scale trading. She was a philanthropist who focused her energies in her latter years in providing support for homeless children and the elderly.
Death and Legacy
Around 5:00 am on Sunday, October 14, 2001, Hajia Hajaratu Gambo Sawaba died at the Ahmadu Bello University Teaching Hospital (ABUTH), Zaria, after a protracted illness. Survived by her daughter, Bilikisu, she was 68.
Of a truth, Gambo Sawaba was an Amazon and an enigma in the 20th century Northern Nigeria. Right from the start, the major aspects of her character emerged very boldly. To Sawaba, oppression is unbearably revolting. Hence, she stoutly defended the rights of the weak. She did not brook undeserved wealth and even reportedly shared every kobo of hers with the poor.
Deeply nationalistic, Gambo Sawaba abhorred ethnic discolouration, regionalism, or any sort of discrimination on the basis of primeval factors. She was always modest and unpretentious but proud of having suffered the adverse repercussions of upholding the rights of the oppressed.
In 2012, the Federal Government of Nigeria honoured her by featuring her portrait on the failed ₦5000 note, which also featured Funmilayo Ransome-Kuti and Margaret Ekpo. Also, the Gambo Sawaba general hospital in Zaria is named after her.
If you liked this article, then please subscribe to our YouTube Channel for interesting historical videos and follow us on all our social media handles. Don't hesitate to as well share this article with your friends.
You can also get Ayomide Akinbode's latest historical novels on Amazon, Rovingheights, and Okadabooks.