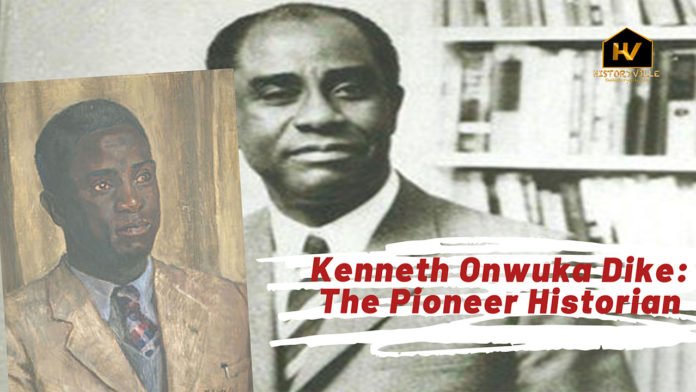 Professor Kenneth Onwuka Dike (December 17, 1917 – October 26, 1983), B.A., M.A., PhD., Hon. LLD, Hon. D.Litt., Hon. D. Sc., Andrew W. Mellon Professor of African History, Harvard University, was the first Nigerian Vice-Chancellor of the University of Ibadan and the roaming Ambassador of Biafra to Côte d'Ivoire.
Biography of Kenneth Onwuka Dike
"The Pioneer Historian", Kenneth Onwuka Dike was born in Awka, present-day, Anambra State, Nigeria, on December 17, 1917. He was the third son of Nzekwe Dike, an itinerant medicine man and trader. He lost his father in 1922, at the age of four, and his mother, Nwudu Dike, a year later.
Thus, young Kenneth became an orphan at an early age and was raised by his grandfather, Dike Nwancho, assisted by his elder brother, George Dike, who was born in 1909.
In 1923, Dike was apprenticed to an itinerant medicine man who operated between Awka and the commercial city of Onitsha. He started his primary education at Government School Awka and then his secondary education at Government College Awka. In 1933, he enrolled at the prestigious Dennis Memorial Grammar School, DMGS, Onitsha, Nigeria.
After three years at DMGS, Dike spent another two years at Achimota College in the Gold Coast, present-day, Ghana. From Achimota, he moved to Fourah Bay College, Sierra Leone. At the time, Fourah Bay was affiliated with and awarded degrees from Durham University. This meant that through Fourah Bay, Dike took a B.A. (in English, Geography, and Latin) from Durham University.
In 1943, he returned home to Nigeria but didn't stay long. In November 1944, Dike left on a British Council Scholarship for the M.A. degree in History at the University of Aberdeen. In June 1947 he graduated, bagging first-class honours (the best of his year) at Aberdeen.
Four months later, Kenneth Onwuka Dike registered for his PhD at King's College, University of London. Under the supervision of Vincent Harlow and Gerald S. Graham, he did a dissertation entitled Trade and Politics in the Niger Delta, 1830-1879. He earned his PhD degree on July 28, 1950. After acquiring it, Dike became the first African to "pass through professional training" in Western historical scholarship.
Career
The 1950s proved to have been Dike's most productive scholarly years—preceding his university administrative career and later political activity in the interest of an independent Biafra.
His Study on The Preservation and Management of Historical Documents in Nigeria was published in 1953. This research had to do with creating the National Archives of Nigeria which he later served as the director.
Kenneth Onwuka Dike worked for a time as chair of the Nigerian Antiquities Commission in the same documentation and preservation manner. A Hundred Years of British Rule in Nigeria was published in 1957, followed by The Origins of the Niger Mission a year later, in 1958.
From 1963 until late 1966, Kenneth Dike was Vice-Chancellor at the University of Ibadan — that is, he was the university's chief administrative officer. Prior to assuming that post, he had been a director at the Institute of African Studies, Ibadan in addition to being the director of the National Archives. His combined administrative/academic skills also led to his appointment as chair of the Association of Commonwealth Universities.
As an Igbo and an Easterner, his role as a head university administrator in Western Nigeria became untenable. A lengthy tussle to retain his position as a Vice-Chancellor was lost to a Yoruba rival and Dike, at that point, made the tenable decision to opt for "a new life in an independent Biafran state".
Dike's resignation as the Vice-Chancellor of the University of Ibadan came in December 1966.
Kenneth Onwuka Dike joined his fellow Igbo people in Eastern Nigeria who were seeking secession and forming a separate nation. The new nation was to be called Biafra, located at the mouth of the Niger River and named after the Bight of Biafra. The name of this body of water separating the eastern and western parts of Nigeria has since been erased from maps of the reunified nation.
From Ibadan, Dike went home to become Biafra's roving ambassador. He acted in this capacity from 1967 to 1970, travelling extensively and speaking out on behalf of the Biafran position in the civil conflict.
By 1968, Dike's position with regard to Biafra had become unshakable. Before that time, Biafra's attempts to achieve a loose confederation with the West had his support. These overtures, however, were rebuffed by the Western powers. As a result, Dike felt that "after so much sacrifice we are not prepared to go back…." Biafra's eventual and necessary unconditional surrender was certainly a blow to this determined intellectual. Still, during the final days of the secession effort, he served as Biafra's representative at cease-fire negotiations in Abidjan, Côte d'Ivoire.
During the postwar years, in the 1970s, Dike went into exile and took up an academic position at Harvard University in the United States. He was president of the Committee on African Studies at Harvard, from 1971 to 1973. He was then recruited to Harvard as the first Mellon Professor of African History in 1973. He continued teaching there until 1978 when he was able to return to Nigeria.
Family and Death
Professor Kenneth Onwuka Dike re-entered administrative work in Nigeria, this time as president of Anambra State University. Anambra was located in Enugu in the Eastern part of the reunited nation North-East of his birthplace, Awka. His wife, Ona accompanied him when he returned to Nigeria in 1978.
Kenneth Onwuka Dike died in an Enugu hospital on October 26, 1983. He was 65. At the time of his death, his children, Nneka and Emeka, lived in Nigeria's then-capital city of Lagos. Three other children (two daughters, Chinwe and Ona, and one son, Obi) remained in Cambridge, Massachusetts, in the United States of America.
Legacy of Kenneth Dike
Professor Kenneth Onwuka Dike was the first to draw the attention of the international community to the fascinating outlines of a viable African epistemology instead of venturing into European history. As indicated above, Dike, despite all odds, successfully carried out his doctoral dissertation, Trade and Politics in the Niger Delta, 1830 – 1885 later published in 1956 by Oxford University as Trade and Politics in the Niger Delta, 1830 –1885: An Introduction to the Economic and Political History in Nigeria.
Though the book made an immediate international impact as marking a new beginning in the historiography of Africa, it greatly stimulated and inspired a new generation of practitioners of African history to make vigorous research using various ways, views, and methods. Many African scholars went further to investigate Africa and African history, cultures, and affairs other than theirs.
Kenneth Onwuka Dike also created enduring foundations that gave impetus to an African initiative or Africa – centred perspective when he rooted for the establishment of the Department of History at the University College Ibadan. He, therefore, used the Department of History to sow and water the seed of African epistemology.
The History Department soon became "a centre of excellence in African historiography in the world".
In fact, at a point, "The History Department of Ibadan had no less than four full professors and began to supply staff including Vice-Chancellors, to other universities."
At this juncture, it would be worthwhile to recall that the late Professor Kenneth Onwuka Dike was the first African head of History at the University of Ibadan, the first Indigenous Principal of the University College, Ibadan, and later the first Nigerian Vice-Chancellor of the University of Ibadan.
The efforts of Dike would be better appreciated if we remembered that Ibadan was still under the control of imperial London and its curriculum was stocked with European and English History as well as British Colonial History. Dike's idea of "African first" created a new generation of African historians who through rigorous inquiry projected the "glorious Africa" internationally with pride and satisfaction.
Another remarkable contribution of Professor Kenneth Onwuka Dike to African epistemology with great emphasis on African initiative or African-centred perspective was the establishment of the Historical Society of Nigeria (HSN) in 1955 purposely to consolidate the gains envisaged from the training and research at Ibadan.
The Historical Society of Nigeria (HSN) thus became the first and now the oldest academic professional body in Nigeria which produced most of the early practitioners of History who became professors, administrators, heads of institutions, and contributors to national development.
Prominent among them are Jacob Ade-Ajayi (1929-2014), Isaac Okonjo, C.C. Ifemesia, Ebiegberi Joe Alagoa (b.1933), Tekena Nitonye Tamuno (1932-2015), J.C. Anene, Emmanuel Ayandele (1936-2014), Obaro Ikime (b.1936), Adiele E. Afigbo (1937-2009), and S.J.S. Cookey (b.1934).
If you liked this article, then please subscribe to our YouTube Channel for interesting historical videos and follow us on all our social media handles. Don't hesitate to share this article with your friends as well.
You can also get A Carnage before Dawn, a historical account of Nigeria's first coup d'état. E-book here. Paperback here.
Sources
Awortu B.E, Uebari Samuel (2015). African Intellectual Revolution In the 20th Century: A Review of Kenneth Onwuka Dike's Contributions to African History. International Journal of African and Asian Studies. ISSN 2409-6938.
Chuku, Gloria (2013). The Igbo Intellectual Tradition, pg. 137-164.
Nwaubani Ebere (2014). Kenneth Onwuka Dike, Trade and Politics, and the Restoration of the African in History.