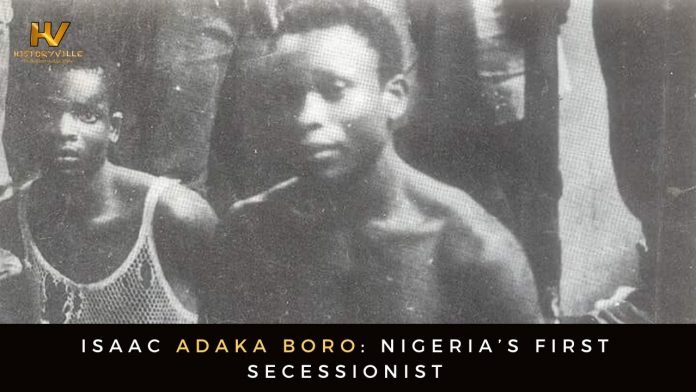 Before Emeka Ojukwu declared the Republic of Biafra in May 1967, Isaac Adaka Boro had declared the Niger Delta Republic in February 1966.
Boro had formed the Niger Delta Volunteer Force, an armed militia with members consisting mainly of his fellow Ijaw ethnic group, declared the Niger Delta Republic on February 23, 1966, and fought Nigeria's federal forces for 12 days but they were eventually defeated and then jailed by the Aguiyi-Ironsi Federal Military Government for treason.
Before he declared the Niger Delta Republic, Isaac Adaka Boro's father, a learned educationist, had offered his son sponsorship abroad to further his education rather than take up arms against the government. The senior Boro feared that the action would ruin the family but Boro rejected his father's offer.
However, Boro went on to fight for Nigeria against Biafra during the Civil War but was killed under mysterious circumstances in active service on May 9, 1968, at Ogu (near Okrika) in Rivers State. He was 29.
In this article, we'll take a look at the life and times of Isaac Adaka Boro, the first man to ever declare a breakaway republic from Nigeria. You can watch the video here.
The Man – Isaac Adaka Boro
Isaac Jasper Adaka Boro was born on September 10, 1938, to Ijaw parents in Oloibiri, Bayelsa. Ironically, this is where crude oil was first discovered in 1956. The mega dollars which then came with the discovery were not impacted on the area where the crude was coming from.
His father, Pepple Boro, was a school headmaster and in his autobiography, 'The Twelve Day Revolution', Isaac Adaka Boro described how he moved with his parents to different towns whenever his father was transferred to head a school.
The young Boro did not find any difficulty in obtaining the first First School Leaving Certificate which examination he passed with distinction. He also passed the West African School Certificate Examinations at Hussey College, Warri, in 1957. Isaac Adaka Boro produced the best school certificate result for the college in that year.
After completing his secondary education in Warri, Delta State, he took up a teaching job before he joined the Police force. In 1961, he obtained a scholarship from the Eastern Regional Government to study Chemistry at the University of Nigeria, Nsukka.
Isaac Adaka Boro emerged as the President of the Students' Union Government for the 1964/1965 session after two failed attempts. This was his first major role in a leadership position that made him very popular.
He was so radical and courageous that as a student, he dragged the Federal Government to court seeking the nullification of the 1964 general elections. He was also the pioneer for campus transportation which was hitherto nonexistent in the university. Boro paid attention to the unending political crises in Nigeria and spent more time reading the thoughts of known revolutionaries like Fidel Castro.
When he left UNN in 1965, he moved to Lagos and founded a political movement called, WXYZ with two like-minds, Samuel Owonaru and Nottingham Dick. The movement advocated greater control of the benefits of oil wealth for the Ijaw.
Boro, who was said to have a strong admiration for Prime Minister Abubakar Tafawa Balewa, condemned the coup that led to his assassination and said Major-General Johnson Aguiyi-Ironsi's emergence as Head of State convinced him that revolution was the only way out for the Ijaw people and advocated a rejection of the new regime.
He questioned the legitimacy of such a violent change and needless show of disrespect for the Nigerian Constitution, describing it as a direct affront on the covenant of federalism agreed on by the founding fathers of the country.
Notably, a few weeks after that military coup, Boro declared the secession of the Niger Delta from the rest of Nigeria.
The Twelve-Day Revolution
On February 23, 1966, a few weeks after the January 1966 military coup, at the age of 27, Isaac Boro declared the secession of the Niger Delta from the rest of the country. He called the new country the Niger Delta Republic. But it would only last for 12 days.
He formed the Niger Delta Volunteer Force, made up of young men whom he had been training in a militia camp behind his father's compound in Kaiama, Bayelsa State. In his speech, Boro told his supporters that they were going to demonstrate to the world what and how they felt about oppression.
Interestingly, his career, comfort, young family, and even his own life were nothing compared to the common good and interest which he sought to pursue. Boro and his comrades in arms were determined, resolute, and completely sacrificial to their cause. They envisioned a Niger Delta which would be the beacon of true civilization and progress.
Despite the superiority and sophistication of the Nigerian Army, Boro and his close associates including Captains Sam Owonaru, Captain Nottingham Dick, George Amangala, and so on, didn't see a possibility of failure.
Aptly penned down in his autobiography, Boro avowed his commitment to truth and justice. He was sure of victory even when faced with death. His proclamation was the first time the unity of Nigeria would be put to test. Boro argued that the Niger Delta region where the nation's wealth comes from had suffered years of neglect and underdevelopment.
The protest which lasted for 12 days was forcefully restricted by the Federal Government under Major-General Johnson Thomas Aguiyi-Ironsi and the Governor of the Eastern region, Chukwuemeka Ojukwu, who ironically, would make the same move by declaring the Republic of Biafra, a year later in May 1967.
Boro and his comrades were tried for treason and sentenced to death. During his trial, he remarked that there was nothing wrong with Nigeria but the lack of mercy in her activities. However, the military regime of General Yakubu Gowon who succeeded the murdered Ironsi in the July Northern counter-coup granted Boro amnesty on the eve of the Nigerian civil war in May 1967. He then enlisted and was commissioned as a major in the Nigerian Army.
Fighting in the Nigerian Civil War
Boro recruited some men who volunteered to serve under him and he briefly trained them at Escravos. His group was then attached to the 3 Marine Commando Division (then 3 Marine) under the command of Colonel Benjamin Adekunle. Former President Olusegun Obasanjo in his book, "My Command", described the training of Boro's 1000 Rivers men as "hurriedly and poorly done with little or nothing in the way of training facilities and resources".
He however acknowledged their contributions to the Army despite the poor training. Major Isaac Adaka Boro and his men recorded a lot of victories during the war. Their knowledge of the creeks of the Niger Delta, their understanding of the local languages, their ability to live off the land, and their swift, though tactically less accomplished, movement accounted for their huge success in areas around Opobo, Obodo, Opolom, Andoni, Oranga, and Buguma.
They fought gallantly to liberate the most critical oil and gas belt of Nigeria from the Biafran troops although, Colonel Adekunle received all the credit for their successes.
Isaac Adaka Boro's Death
Isaac Adaka Boro died during the Nigerian civil war near Okrika in 1968. He was 29. A lot of theories have come up concerning his death, with some pointing at Colonel Benjamin Adekunle claiming he saw Boro as a threat to his political ambition while others point at the Igbos, who felt the Boro betrayed them by joining the Nigerian state to fight against Biafra.
Speaking about this, Isaac Adaka Boro's younger brother, David Boro, who was still a teenager at the time his brother died, described his brother as one who did not see himself as a soldier. David stated that Boro was an aggrieved freedom fighter who wanted quick results and was only in the army to win the war and would leave when that happened. He added that his brother's overzealousness cost him his life.
Former President Olusegun Obasanjo also wrote in his book that Isaac Adaka Boro was killed by a fleeing rebel soldier whom he encountered during a private visit. The suspicions surrounding his death led to a weakening of the soldiers' morale and their fortunes began to dwindle.
Major Isaac Jasper Adaka Boro was buried at the Ikoyi Cemetery, Lagos State, but his remains were later exhumed in 2013 and reburied in Yenagoa, the capital of Bayelsa state.
Boro's Legacy
Isaac Adaka Boro's 12-Day Revolution was the first rebellion of many to come against the Federal Republic of Nigeria. He is quoted as an inspiration for both violent and non-violent Niger Delta activists like Ken Saro-Wiwa and others.
Boro's struggle for equity awakened the consciousness of the Ijaw nation like never before, to the deplorable conditions of their communities despite being home to major oil wells. They can be described as the proverbial people who were bathing in an ocean but couldn't get water to wash the soap in their eyes.
Every year in Bayelsa state, May 16 is set aside to celebrate his impact on Ijawland and remember how he fought for the Niger Delta region. Isaac Adaka Boro also has a park in Port Harcourt, Rivers State, named after him.
Captain Sam Owonaru who was Boro's second in command, was the last surviving member of the Niger Delta Volunteer Force. Speaking before his death on June 16, 2020, Owonaru stated that the inability to control and manage their resources was the reason for their agitation and the story has remained the same which is heartbreaking.
Isaac Adaka Boro's revolution failed but it opened the door for others agitating for resource control and drew attention to what is happening in the Niger Delta region.
Looking back at how the region has fared thus far, not much can be said. Granted, more states have been carved out from the previous 12 to 19 and finally 36, but still, the Niger Delta is far from being the region of her dreams. Cries of marginalisation, political intolerance, and rapid degradation of the region have all fallen on deaf ears. Activists who dared to toe the path of Isaac Boro have either been jailed, killed, or silenced in kind.
One of these activists from the Niger Delta was Ken Saro Wiwa. You can check out his full story here.
We always have more stories to tell. So, make sure you are subscribed to our YouTube Channel and have pressed the bell button to receive notifications for interesting historical videos. Also, don't hesitate to follow us on all our social media handles and to as well share this article with your friends.
You can get A Carnage Before Dawn, a historical account of Nigeria's first coup d'état. E-book here. Paperback here. And on Amazon Kindle and Amazon Paperback.
Sources
Igoni, D. (2020, January 11). Northern Nigeria Encouraged Isaac Boro's 12-Day Revolution – Brother, David Boro. Punch. Retrieved from https://punchng.com/northern-nigeria-encouraged-isaac-boros-12-day-revolution-brother-david/
Orodare, M. (2020, August 28). Isaac Adaka Boro – the revolutionary Ijaw soldier who declared the secession of Niger Delta Republic. neusroom. Retrieved from https://features.neusroom.com/isaac-adaka-boro-the-revolutionary-ijaw-soldier/
Oseji, E., and Ebirim, J. (2021, May 23). Why we are celebrating Isaac Adaka Boro 53 years after – Ijaw in Lagos. Vanguard. https://www.vanguardngr.com/2021/05/why-we-are-celebrating-isaac-adaka-boro-53-years-after-ijaw-in-lagos/